It's a new year and with that we begin a new column: "Do You Know Cat® Simulators?" Joel Montgomery is an expert in our Technical Support Department who talks to customers each and every day about their Cat Simulator Systems. He is a wealth of information when it comes to knowing what the simulators are capable of. We want to begin sharing his knowledge in our newsletter in order to help you get the most out of training with Cat Simulators. In this issue, Montgomery shares information on changing performance values during training exercises.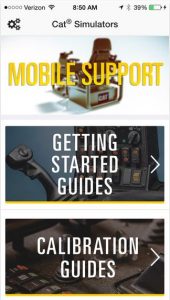 Now you can take the Cat Simulators Support team anywhere you travel when you download the free mobile app. The app provides access to technical support content. Easily download and view assembly guides, FAQs, and access details for contacting various Cat Simulators departments. Submit technical support-related questions to the Cat Simulators Support team and more. Read more and download the app for free!
Do You Know Cat Simulators?
Joel Montgomery, Technical Support expert, explains how to manage the benchmarks set in SimU Campus™. Each training exercise included in the simulator has dozens of metrics that are measured and recorded during simulation sessions. As a default, each of the benchmark results are set by comparison to a Caterpillar heavy equipment operator.
You can change the performance values in the Class Editor of SimU Campus to get full control over the metrics that you can use to test student/employee skill levels.
The metrics' benchmark values can be modified to make passing the exercise easier or harder, depending on the individual user. For example, some of the measurable results that can be modified are execution time, collisions with the ground and vehicles, production levels and time spent on specific actions.
To find out how to change the performance values within SimU Campus, go to the Getting Started Guide supplied with Cat Simulators. If you cannot locate your copy of the Getting Started Guide, e-mail support@catsimulators.com.
Understand the Benefits of a Machine Walkaround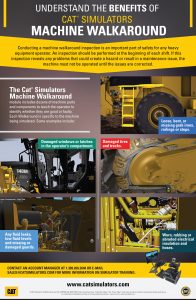 Heavy equipment operators can help prevent unnecessary machine damage and downtime by correctly performing a machine walkaround inspection. Best practice recommends an inspection be performed at the beginning of each shift and some recommend an additional inspection at the end of each shift. Inspection points vary based on the machine being operated, which makes proper walkaround training crucial.
Cat Simulators models include an exclusive Machine Walkaround training exercise. Heavy equipment operators can utilize the exercise to better identify faulty machine parts and components. Take a look at the infographic to find out more. To get a copy of this training graphic for free, contact a Cat Simulators Account Manager today at 1.309.266.2640.
Find Out How Kentucky Safety Training Institute Uses Cat Simulators
Students at Kentucky Safety Training Institute (KSTI) and Southeast Kentucky Community and Technical College (SKCTC) are utilizing Cat Simulators to help prepare them for heavy equipment operator positions. Don Webb, Director at Kentucky Safety and Training Institute and Steve Greene, Associate Professor at Southeast Kentucky Community and Technical College, have both witnessed the benefits of simulator training first hand. Watch the video to find out some of their success stories.
New Simulator Training Classes
Get the most out of simulator training!
The Simformotion Simulation Instructor Training course is for those who would like to learn more about using Cat Simulators during training. Specific machines will be the focus of each training course. The course objectives are:
Understand how you can modify classes.
Troubleshooting SimU Campus issues.
Gain a complete understanding of training exercises.
Walk through and learn an explanation of each exercise on each simulator.
Establish expectations to complete each exercise.
Practice hands-on time with each simulator.
Learn and become competent within SimU Campus, the records management program that records and reports each simulation session, through instruction and hands-on application of course material. Learn how to install all simulation software and calibrate the controls. To find out more about the class specifics, contact your Account Manager at 1.309.266.2640 or e-mail Kim Dillard.

We are now accepting applications for our 2015-2016 Cat Simulators Scholarship. Contact Annette Kiesewetter or visit our website to find out more information.
Sign Up for our eNewsletter
Share Simformed with a colleague! Our newsletter features the latest simulator models, video releases, training tips and more. Sign up for our bi-monthly eNewsletter.
Contact a Cat® Simulators
Account Manager
1.877.434.7467 (in US)
1.309.266.2640
www.catsimulators.com