Meet our scholarship winner. New convertible and mobile simulators. Beat the skilled labor gap. Build a simulator trailer. Pick Construction Dozer applications.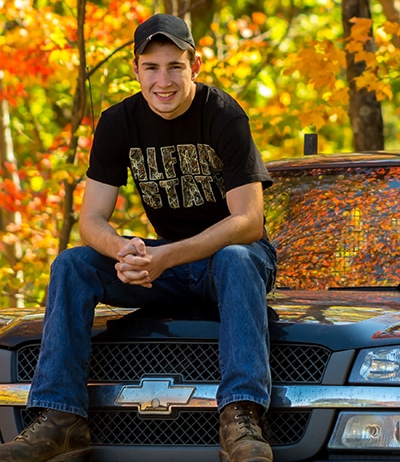 Each year we give a scholarship award to a student enrolled in a heavy equipment program that utilizes Cat® Simulators as part of the training. It's a way that we at Simformotion™ can give back and help build tomorrow's workforce. Please join us in congratulating this year's Cat® Simulators scholarship winner, Jacob Nohai of New York. He is currently enrolled in the Heavy Equipment Operations program at Alfred State College.
Mobile & Convertible Training
Cat Simulators new hardware design allows you to convert from one simulated machine to another using the same base unit. Cross train operators on multiple machines, assess new hires, refine skills to increase production, or recruit new students. Plus the simulators have an option for a wheeled base to easily move from one location to another; or outfit a trailer for travel to jobsites and satellite offices!
Watch a demo of the new mobile and convertible hardware and discover Cat Simulators training flexibility.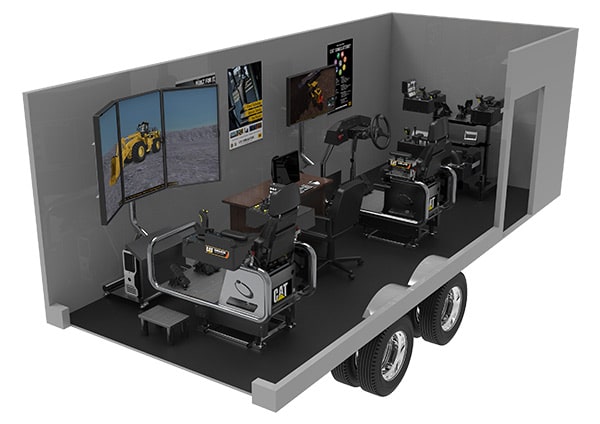 Cat Simulators now offers several trailer sizes complete with assembly and installation of hardware. Trailer options come with side entry door, rear access ramp, vinyl walls and ceiling, air-conditioner, 30-amp electrical service, receptacles, lighting, rubber flooring, and more! Contact an Account Manager to find out the details.
You Won the Bid, Now Who is Going to Build It?
Between an aging workforce and attrition, the skilled labor shortage is holding many companies back. How do you build roads, bridges, and dams without heavy equipment operators? In a study by FMI, almost 60% of businesses that were asked if they could not meet the need for skilled labor and tradespeople in the next few years, responded that they would not be able to bid on work; would lose out to the competition; and company growth would slow.
How do you build the workforce you need now? The key is training. Set up a training program within your company, or partner with local community colleges, unions and training centers. Read our whitepaper on the topic.
Contact an Account Manager to help guide you to training an operator workforce.

When in the cab of a piece of machinery, operators must be sure that no one is behind them or in their blind spots. If vision is limited, position a spotter in a safe, visible place to guide and direct the operator. Inform other operators and ground personnel of blind spots and require them to make eye contact with the operator before coming in the equipment's vicinity. All personnel should wear high visibility PPE when on the jobsite.

Troy Bombardier
Cat Simulators Training Instructor/Design Specialist
Simformotion™ LLC
Do you have a helpful operating tip? 
Submit a tip 
and receive a hat!
Dozer Applications – What Would You Do?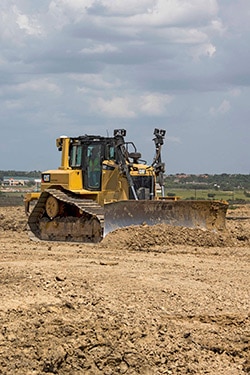 If you could program a medium size Dozer to perform any applications desired in a construction environment, what would those be? Click to tell us!
Cat Simulators on the Road
Curt Meyer, Account Manager for Cat Simulators recently visited a career and technical education school in Ohio. The instructor arranged for members of his advisory committee, and a local Cat dealer rep, to try out the new Cat Advanced Construction Excavator Simulator System. The next day he invited a couple dozen students to experience both the Excavator and the Large Wheel Loader Simulators. Because it's easy to switch between machine models, Meyer was able to switch out the controls for each group of students quickly to allow all the students to demo the training. Like other areas of the country, Ohio is experiencing a labor shortage in the skilled trades. Finding new ways to train and educate the needed workforce is a priority within the state.