See What's Inside The Van!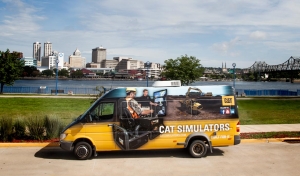 Cat® Simulators is traveling to a city near you. You can't miss the colorful and exciting Sprinter van when it is out on the open road. Outfitted with a Cat Simulator, the van is traveling throughout the country for demos and training. Go to simulatorvan.com to find out where the van will be next or to schedule a visit. Check out the Instagram photos and see where the van has been!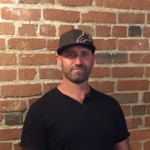 Welcome to our new Trainer, Troy Bombardier! Troy comes with many years of heavy equipment and simulation training. In this issue of Simformed, he shares the following tip:
"At the start of each shift, always check your emergency steering to make sure that it will work in the event that you lose power or have a catastrophic failure. In that event, you can steer your equipment to a safe location and ensure a safe future."
Do you have a helpful operating tip? Submit a tip and receive a hat!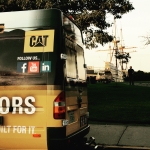 Account Manager, Michelle Elam, took the Cat Simulator van on a trip to the New England States. Her first few days were spent in Albany, New York with an organization that trains all levels of operators. She spent the next few days with some high schools in the area who have career tech programs focusing on Construction Trades.
Elam then traveled to Concord, New Hampshire to meet with forestry organizations looking at ways to attract more workforce to the logging profession, and looking at simulators as a way to do this. They plan to take them to career fairs and other recruitment events. She finished the trip in the Boston area meeting with training companies, U.S. Coast Guard and other high schools. One high school already had Cat Simulators and were impressed with the idea of a demo-ready mobile unit.
Everywhere Elam went there was interest in the simulator van. Even tourists visiting the Mayflower in Plymouth were excited to snap a picture of the van!
To find out more or to arrange a visit from the Cat Simulator van, go to simulatorvan.com or call 1.309.266.2640.
Be sure and check out Facebook and Instagram to find out where the van is at!
Learn Quarry Truck Operations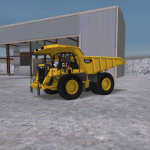 The new Cat® Off-Highway Truck Simulator is set in a quarry environment where operators can learn the same applications found on actual worksites around the world. The system features authentic controls combined with simulated applications. The Off-Highway Truck teaches Controls Familiarization, how to perform a Machine Walkaround, Systems Tests, Driving, Hauling, Braking, Loading, two Unloading methods, Full Production Cycle and a special Open Training mode.
Exclusive to Cat Simulators is SimU Campus™, the software that records and reports the results of all simulation sessions so instructors and users can track progress. Special bonus features on the Off-Highway Truck system include companion iPad training, multiple languages and available motion platform. Find out more.
Do You Know Cat® Simulators?
SimU Campus™ the exclusive report management software allows you to run a report to find out the cumulative usage on your simulators.
In the Usage Statistics under the Reports tab, you can view the hours spent on the simulator, distance driven and amount of fuel consumed. Narrow the results by simulator, class, or even by a date range. Find out how much time each of your simulators are being used.
Cat Simulators Rolling Motion Platform Now Available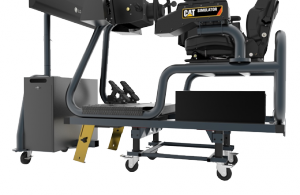 The Rolling Platform allows easy transportation and movement of the simulator. A platform is now available for simulators equipped with the motion system. Contact an Account Manager at 1.309.266.2640 for details or to order.
Instructor Training Classes
Learn beyond the basics! The Simulation Instructor Training class focuses on objectives to better understand how to use Cat Simulators for operator training and education. The class will cover:
How to customize training with SimU Campus™
In-depth Review of Reports
Simulator Hardware Assembly & Disassembly
Troubleshooting Steps
Companion eBook/iPad Material
Join us for a class and learn how to get the most out of Cat Simulators. Contact your Account Manager at 1.309.266.2640 to attend classes.
"The benefit of using simulations for training is that new operators can first focus on learning proper technique and then focus on building efficiency. Operators that learn on the job tend to be rushed into job completion and learn proper operation after years of experience. The combined training using simulations and real equipment will build the basic foundation needed to become a professional operator."

—Josh Aldridge
Stanly Community College
Sign Up for our eNewsletter
Share Simformed with a colleague! Our newsletter features the latest simulator models, video releases, training tips and more. Sign up for our bi-monthly eNewsletter.
Contact a Cat® Simulators
Account Manager
1.877.434.7467 (in US)
1.309.266.2640
www.dev.catsimulators.com