Career Exploration with Cat® Simulators

Have you thought about using Cat® Simulators as a tool for career exploration? Nate Hurn, Government Account Manager, and Jillian Maioli, Warehouse Coordinator/Trainer, attended the "Discover Manufacturing Career Expo" in Peoria, Illinois. The event featured different career paths for high school students, focused around the manufacturing industry. Students got the opportunity to explore heavy equipment operations on a Cat Simulator Mining Truck System.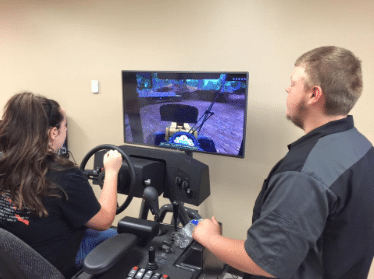 In another example, Tri-Rivers Career Center, Marion, Ohio, hosted tours for more than 450 8th graders to promote and recruit for its programs. Cat Simulators were used for students to investigate a heavy equipment career.
If you would like to rent a simulator for a career fair, training, or another event, contact Kim Dillard at 1.309.266.2643.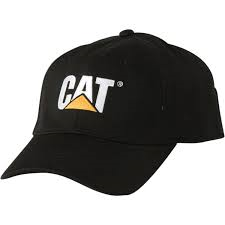 "Anytime you are operating the Hydraulic Excavator, always try to swing to the left (Operator Side) whenever possible. Especially when you are working in close proximity to people; or items on the ground, in or near your swing radius."
Troy Bombardier
Cat® Simulators Training & Design Specialist
Do you have a helpful operating tip? Submit a tip and receive a hat!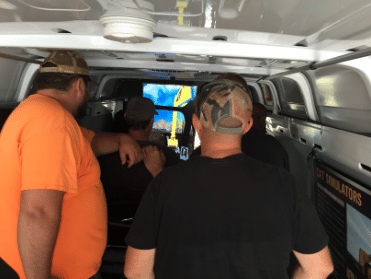 Account Manager, Curt Meyer, and CEO, Ken Pflederer, recently headed west in the Cat Simulator van to visit Oklahoma. The first stops included two vocational schools near Tulsa. About 30-35 students got to experience the latest in Cat simulator technology. The kids did not want to see the van go!
Next, the two visited Oklahoma City to show the local Cat dealer the new advancements in simulator technology. Two more stops were made at colleges for students to try out the simulators, as the schools looked to add new training with Hydraulic Excavator simulators. Finally, Meyer and Pflederer travelled north to Enid, Oklahoma to one more vocational school. A demonstration of the simulator on motion caught the attention of everyone in the office! Meyer shares, "It was a great feeling to get to show off our product to so many people throughout Oklahoma."
To find out more or to arrange a visit from the Cat Simulator van, go to simulatorvan.com or call 1.309.266.2640.
Be sure and check out Facebook and Instagram to find out where the van is at!
Join Us! Simulation Instructor Training Class
Learn how to best use Cat Simulators for operator training. Join us for a Simulation Instructor Training Class. Understand how to better utilize the software and hardware. Plus, learn how to get the most out of SimU Campus™, the records management software that records and reports the results of all simulation sessions to track operator training progress. Each hands-on training course will focus on specific simulator models.
Objectives will cover:
In-depth review of reports
Simulator hardware assembly & disassembly
Setting up classes tailored to your program
Troubleshooting steps
Companion eBook/iPad material
Contact your Account Manager at 1.309.266.2640 to schedule a class.
Do You Know Cat® Simulators?
SimU Campus is the exclusive records management software that has built-in archiving and copy functions so you can keep your database well organized and easily accessible.
Archive past classes with the following steps: Open SimU, look under "Utilities," and you will find "Archive Data." This function will allow you to remove completed classes or those classes that are no longer needed. This function will also help if your class list has become crowded and needs to be shortened. You can also view the data simply by browsing to the archive and selecting "Open." This will allow you to view what you have archived. Remember, if you would like to reuse the class before archiving, make a copy of the class by opening "Editors, Classes" and clicking the copy function. This will make a copy of your class to be reused for new students.
Sign Up for our eNewsletter
Share Simformed with a colleague! Our newsletter features the latest simulator models, video releases, training tips and more. Sign up for our bi-monthly eNewsletter.
Contact a Cat® Simulators
Account Manager
1.877.434.7467 (in US)
1.309.266.2640
www.dev.catsimulators.com