Motion Platform Special Offer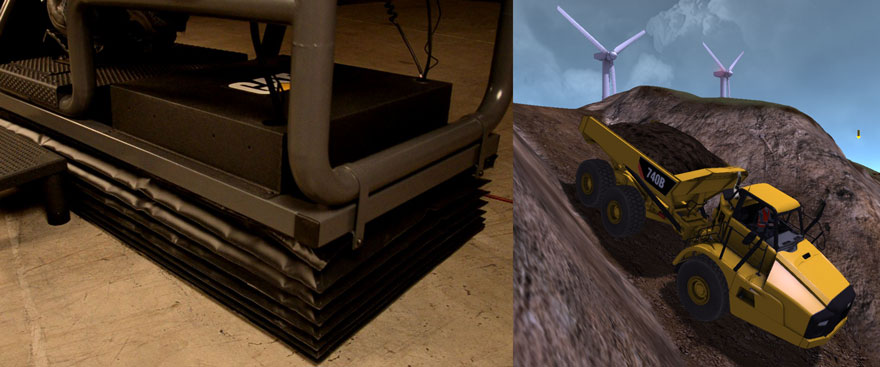 What could adding motion to your operator training program mean?
Many Cat® Simulators models are available with a motion platform that allows users to feel vibration and movement when the simulated machine is running during training exercises. Users can experience forward/backward and left and right tilt as well as up and down movement.
By adding a motion platform to the simulators, operators will not only gain the knowledge and skills needed for controls and applications, they will also learn how to make the precision movements necessary to increase productivity, better learn tipping points on machines and much more.
Find out how you can receive a special discount on the purchase of a motion platform. Contact an Account Manager at 1.309.266.2640 today for details.
Articulated Truck Simulator System
The new Cat Simulators Articulated Truck System is set in a construction environment and features authentic controls combined with simulated applications. The Articulated Truck teaches Controls Familiarization, how to perform a Machine Walkaround, Driving, Hauling, Braking, two Loading methods, Unloading, Full Production Cycle and also includes a special Open Training mode. Plus, the system includes SimU Campus™ training records management and companion training on the iPad. View a video demo and samples of the training exercises. Contact an Account Manager today at 1.309.266.2640 for inquiries or to order!
Take a Look at the New Cat Simulators Website!
We've redesigned www.catsimulators.com for a more user-friendly experience. You'll find expanded information on our simulator systems and accessories; videos; articles; testimonials and more. Check it out and share your feedback.
Kearney High School Uses Cat Simulators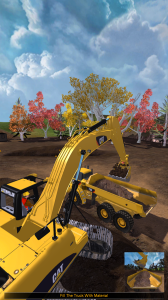 Students at Kearney High School will be able to take a "Heavy Equipment Operator" class beginning in 2014 thanks to a collaborative effort between the school, Central Community College, and area businesses.
Kearney High School principal Dr. Jay Dostal said the local construction industry approached the Kearney Public Schools Foundation with concerns about a lack of skilled young potential employees in central Nebraska.
"They told that their workforce is aging in this area, and there weren't any opportunities for students to be trained for this kind of work." Dostal said.