Camp Community College's Division of Workforce Development recently announced the launch of the new Heavy Equipment Operator program at its Regional Warehouse & Distribution Training Facility in Franklin.
"We were able to procure two CAT heavy equipment simulators using state funding," said former Workforce Director Dr. Angela Lawhorne, who recently left the college for a position at the Virginia Community College System office. "Using simulators with virtual reality, we are able to replicate the safe operation of excavators, front-end loads, bulldozers, and skid steers through the National Center for Construction Education & Research Heavy Equipment Operator certification program."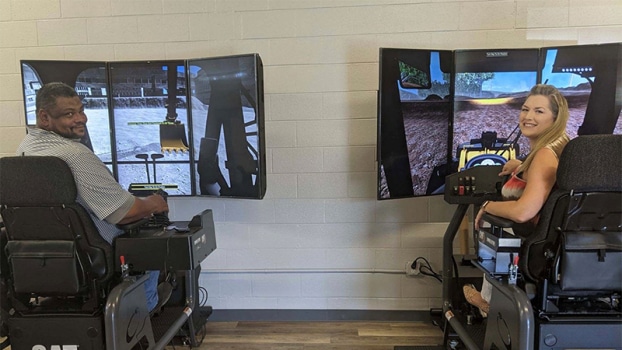 Darren Mitchell, the new Heavy Equipment Operator instructor, has many years of experience operating heavy equipment, and will be coupling classroom instruction with simulated labs and performance testing.
The program starts in September 2021, and there are numerous grants and scholarships to help cover the cost of tuition for students and employees looking to expand their skills. Several local employers have already indicated interest in interviewing program completers, according to a press release from the college.
Contact Camp's Division of Workforce Development to learn more about the program at 757-569-6050, email workforce@pdc.edu or go to www.pdc.edu/workforce-development/heavy-equipment-operator.