The Wisconsin Economic Development Corporation (WEDC) and the Lieutenant Governor's office were in Siren on Tuesday, June 15 noting a $47,000 WEDC grant award for the Softec facility in Siren, which does virtual heavy equipment training.
Lt. Gov. Mandela Barnes was on hand and praised the opportunity the Softec offers, while also noting that it is part of the answer for the state's 'brain drain' that can occur with high school graduates seeking jobs or education in other states, some with dramatically warmer weather.
"We've at least got to have the jobs, even if we don't always have the best weather!" Lt. Gov. Barnes joked. "We've got to make sure we're promoting our best selves and opportunities, to attract other people to the state."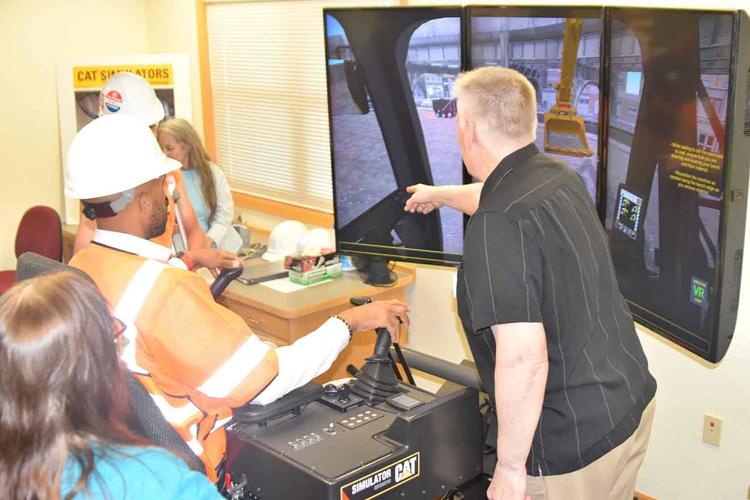 WEDC director and CEO Missy Hughes was also on hand, and cited the Softec program as an example for the 
whole state to follow. "Helping entrepreneurs is really important," Dir. Hughes said, citing the example of the pandemic as a tie when unusual or innovative programs are available and encouraged. "This is an effort to give every individual a chance to succeed and it (Softec) gives everyone a path to sustaining careers and jobs that allows (people) to raise a family."  
Softec founder Tim D'Jock outlined the six-week accelerated training program, which sues exotic simulators to train heavy equipment operators, but how they have grand plans for a dramatic expansion. 
"We have a training gap," D'Jock said, citing not only on-the-job training, but the need for 'soft skill training' for people outside of technical skills. "Our goal at Softec is to expand the program and help to create future trainers."
The WEDC grant is specifically pointed toward such expansions of both facilitates and training, and D'Jock noted how the 35 program graduates for heavy equipment operations includes a diverse group, including 20-percent female, which they are hoping to expand even further.
The event drew not only some of the biggest state names, but also local legislators Rep. Nick Milroy and State Senator Janet Bewley, who both noted the importance of such a program of rural areas of the state.
But the gradate testimonials also included Conrad St. John, a 2002 Siren High graduate, born and raised in the area, and the newest St. Croix Tribal Council member, set to be sworn-in next week. St. John is also a graduate of the Softec program, and was frank in his discussions, noting how he lost his job of 15 years with the pandemic, and decided to do the Softec program, while also running for a seat on the St. Croix Tribal Council.
"The simulator is so life-like!" St. John said with a smile. "And I'll admit, the first week (of the program) was really hard. But by the third week, I was hooked!"
St. John also pledged support from the Tribal Community, and said the program offers huge opportunities not only for individual members but for the whole tribe.
"Hopefully, we won't have to hire out as much for construction and other projects in the future," St. John said. "The Tribe is behind this 100-percent."
Burnett County administrator Nate Ehalt was also on hand and said the Madison contingency is important for the state to see what we have to offer, but also pointed out the other glaring problem. 
"It seems like sometimes, they (in Madison) don't understand what we don't have!" Ehalt said, citing the need for more specific and accessible training for a variety of fields. 
After several testimonials and questions, the Lt. Gov. and WEDC director engaged in a 'friendly competition' on the heavy equipment simulator, although the actual winner was not revealed.