Oelwein High School junior Austin Perry strapped on the virtual reality goggles and held up his hands to match hands on the screen, to calibrate the machine to his body, allowing him to see the heavy equipment simulation he had been practicing, now in 3D. He turned to look behind him, toward the inside of the trailer containing the two simulators.
"Holy crap!"
"What's back there?" asked Courtney Rochette, a success coach with Northeast Iowa Community College.
"The whole thing, the truck. That's pretty cool."
"The excavator, the whole job site?" she asked.
"Yeah."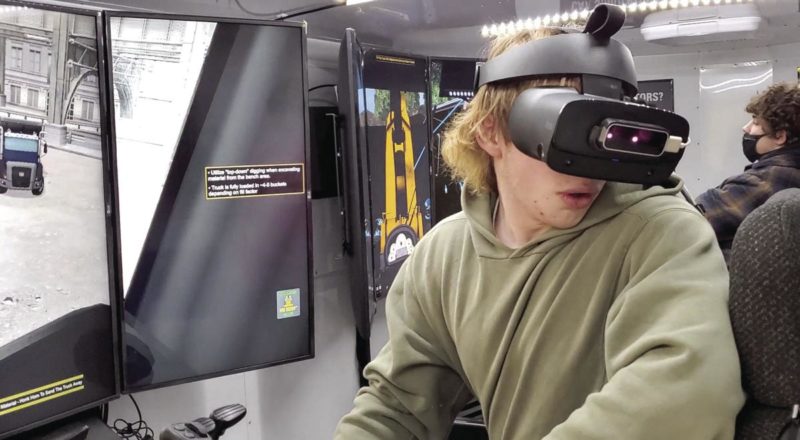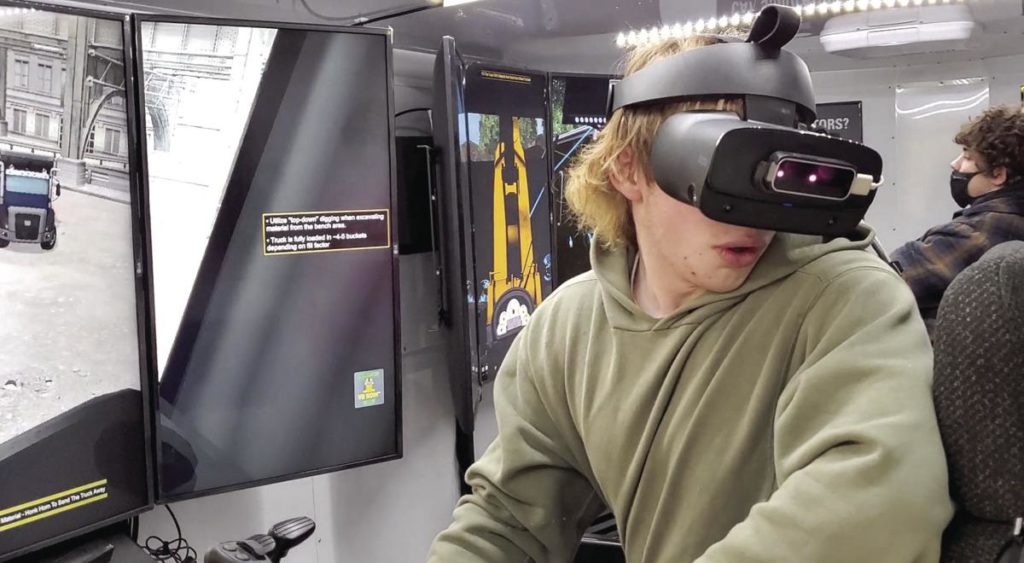 The trailer housing the simulators was paid-for through Vision Iowa and "grants with the community college and partnerships," says Roger Solberg, now a consultant for Equipment Operator Training LLC. Solberg partners with NICC to offer the training after 20 years teaching community college.
"I've run equipment all my life, I went through the program that I taught for 20 years, then I went to work from a big contractor to small contractors," Solberg said.
"I wanted to stay in the industry. I partnered with contractors, JB Holland, Croell's partnered, and community colleges in the area partnered too. We do training out of this trailer too for new employees and equipment operators. We put this together because all the contractors needed … skilled, trained employees."
"This is my first year of DOT Equipment Operator Training," Solberg said. "If it goes great, we keep moving on.
"We've been all over the state of Iowa to high schools, I've probably been to roughly 10-15 high schools already this year," Solberg said.
Solberg has trained 20-30 kids a day on average, depending on the size of the school.
"I like everyone to have 15-20 minutes on the simulators, so that's what we're shooting for," which is about 20 kids a day, but he's patient. "I'll stay here until everybody gets through that wants to get through."
Rochette extolled the virtues of the program.
"This, it saves time, it saves money because you're not destroying equipment, you're not using gas, and you're learning all of those things before you go into the real deal," she said. "It gives the high school kids at least a taste of what they may experience in real life. Part of my job as a success coach is to help figure out what they want to do, what life might look like after high school, be it go to college, community college, help them figure out what that looks like."
Perry and classmate Colton Roete each said they had not done driving simulators before.
"Video games, yeah," Perry said. "The simulator is a lot more real than the video game. The controls. You're sitting in a real chair."
"It was very realistic," said Wapsie Valley senior Tylen Hirsch, rural Oelwein, about the simulator.
He has used it helping run water and tile lines on the family acreage, for instance.
"The bumps, when you drop the bucket too fast, it gives you that shake, that was very realistic," Hirsch said. "Or when you just move too fast, you get that. Or when you're digging down and you dig too deep, it lifts up the back of it.
"For people that have never actually driven one before, … this would be a very good way to learn and get the feel of it without being able to break something," he said.
Hirsch learned to drive the heavy equipment from his dad, Jake Schares, and other area farmers.
"They gave me a rundown, gave me a job and walked away, and just had to figure it out."
As to whether he has broken anything:
"There was one time where I had to dig like 4 feet under the cement pad and leave the pad there." The equipment remained intact. "There was one time when I came up too fast and broke the cement pad."
After the simulation, West Central senior Cameron Rohde remarked, "In the long run you probably save a lot of money training people doing this."
Rochette provided him with literature about various classes he could take for college credit through NICC.
"It was taking a while at first," Perry said. "I started to get used to it and it started to go a lot faster."
Perry's classmate, Colton Roete signed up to try the simulation after encouragement from teachers Jesse Dinsdale and Todd Kastli, as well as Rochette.
"Courtney said it'd be a great learning experience," Roete said. "I could probably see myself doing it in the future as maybe a side job. They said in the career field heavy machine operators are in need."
School personnel wanting to schedule training can reach Solberg's Equipment Operator Training at 712-470-4898, according to a social media page for the business.
"We try to get sponsorships, contractors get together and sponsor the trailer to come to their high school, they're welcome to come in and watch the kids run it, looking at future employees."
"Every contractor, doesn't matter if you're concrete, rock and gravel, dirt, whatever, we've just got to get the kids interested, back in the field and I think this is a good way. Going to high schools and showing there's options out there for them if they don't want to go to a four-year college, they want to do something outside."