The U.S. Bureau of Labor projects more than 50,800 new heavy equipment operator positions will be added to the U.S. workforce every year until 2031. In response, high schools, technical schools, community colleges, and construction companies are creating heavy equipment operator (HEO) programs to fill the pipeline quickly and efficiently. Many are using simulator systems to meet the demand amid the current labor shortage.
Simulation training engages learners and teaches them how to perform tasks, techniques, or processes. The ability to train multiple people in the same way and expose them to real-world situations in the safety of the virtual environment makes simulation training an efficient and effective option. Simulation training is also on-demand training, which eliminates waiting on the weather or waiting on an available production machine.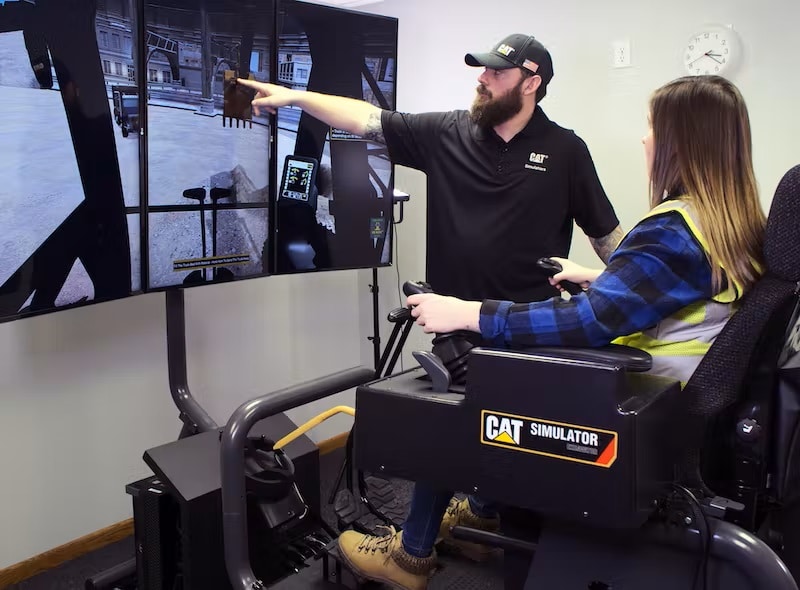 Tennessee College of Applied Technology (TCAT) Knoxville in Knoxville, Tennessee, recently responded to local construction industry leaders' requests for properly trained heavy equipment operators. Its HEO program features three Cat Simulator systems: articulated truck, hydraulic excavator, and dozer along with SimScholars curriculum plans that support each machine.
"We're answering a call directly from the industry," said Sally Porter, TCAT Knoxville Strategic Impact Coordinator. "They don't have enough people. They want us to produce faster and train quicker. And then ultimately, they would like to see our program replicated across the state of Tennessee in all TCATs"
Jose Miranda, TCAT Knoxville's special industry instructor, said his students learn best with a mix of instructor-led learning using the machine-specific curriculum followed by hands-on simulator training.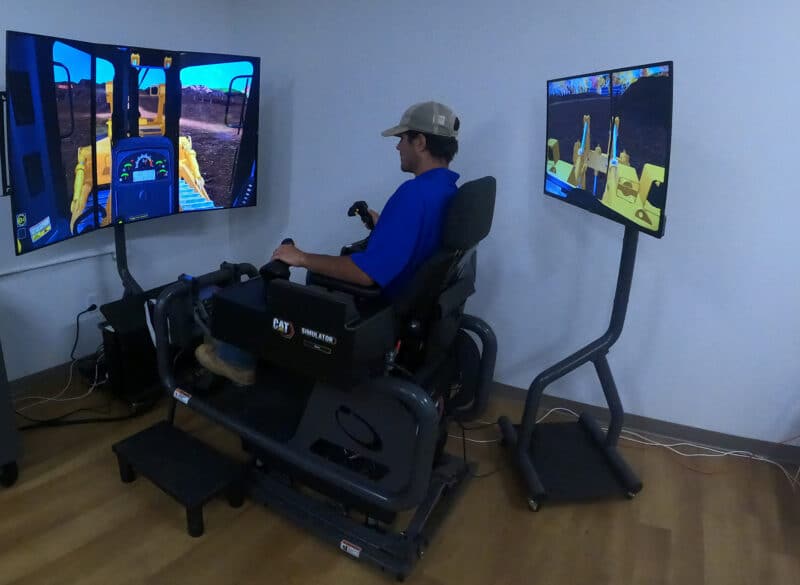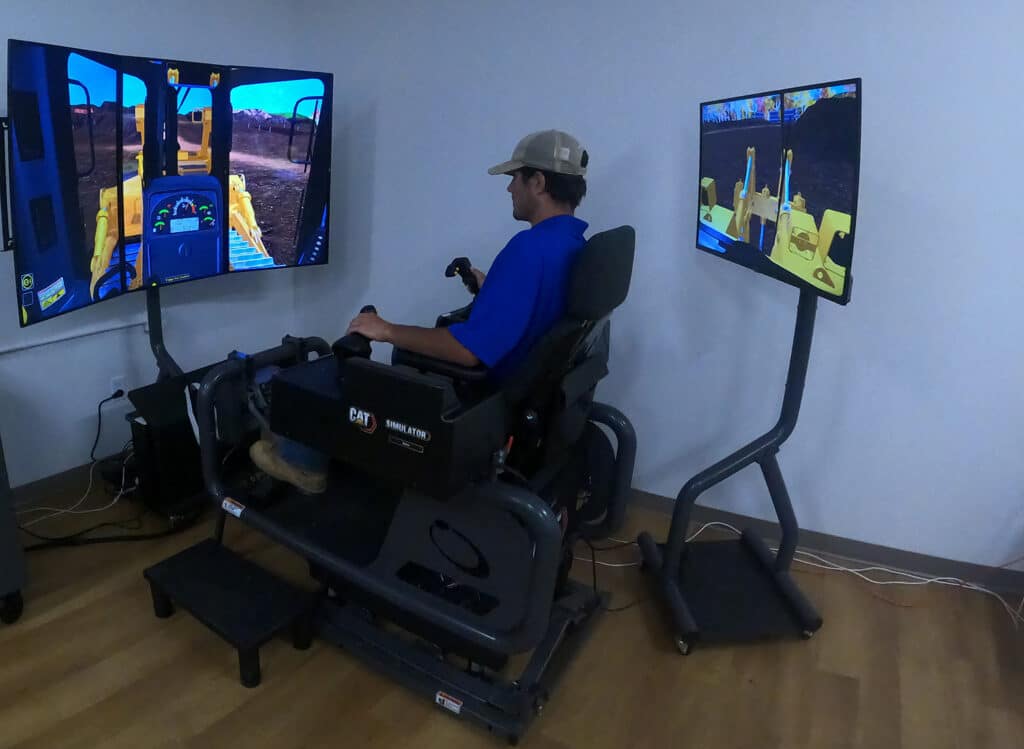 "The curriculum gives the students the reasons why they need to maneuver the machine a certain way even before they get on the simulator," said Miranda. "It also gives them the information they will need when they are on the job site like safety, hazard awareness, and machine operation. The curriculum goes deeper into things like type of soils, bucket load formulas, and more. It's more well-rounded instead of just two hands on the simulator. I think to be a good operator, you have to have both."
How an equipment fleet uses training simulators
Hoopaugh Grading Co., Charlotte, North Carolina, integrated simulators into its training program to meet the company's quick growth and need to train numerous new employees as well as seasoned employees effectively and safely. The company's 20,000-square-foot HGC Academy facility accommodates more than 100 students simultaneously in three large training rooms while rotating students on its three state-of-the-art, customizable Cat Simulator systems.
Katie Page, HGC director of team development, said that HGC takes a holistic approach to training.
"In addition to our in-class curriculum, our certified trainers work with our teammates on the simulators and then follow them out to the field," said Page. "It's more than just sitting in the classroom and learning. Our teammates have the opportunity to learn in different settings and environments."
HGC recently added more than 200 new employees in 18 months.
"We've brought in some new teammates who have no experience in the industry," Page said. "And part of the reason we could do that is the simulators, along with our experienced field trainers in the Academy."
Salma Limon, a former food factory worker, was among those 200 new employees. Limon received in-class instruction and hands-on simulator training that proved invaluable to her.
"Learning how to position the blade on the simulator helped me know how to control the real dozer blade, which is very similar to the simulator," Limon said.
The simulator also helped calm Limon's nerves when she operated a real dozer for the first time.
"At first, when I got in the dozer, I had sweaty hands and was shaking a bit," she said. "I was afraid of the tilting, but the simulator helped with that too."
Training equipment operators at colleges, tech schools
When Western Piedmont Community College (WPCC) in Morganton, North Carolina, recognized the need for heavy equipment operator training, the college added an HEO program to its curricula designed to prepare students for entry-level jobs in the construction industry.
Michael Daniels, Dean of Applied Technologies, said that local contractors, subcontractors, and builders looked to WPCC for help.
"They couldn't find anybody who could run a backhoe, excavator, or dozer," he said. "That's when we decided the heavy equipment operator program would be a perfect addition to our suite of programs." WPCC students receive hands-on training on the college's four different simulator: hydraulic excavator, dozer, small wheel loader, and advanced dozer.
Terry Adams, WPCC coordinator HEO/instructor, tells his students that the simulator's purpose is to familiarize them with the controls and for them to experience operating heavy equipment virtually.
"At first, getting on the simulator is a little intimidating for the students," he said. "I have to coax them into sitting in the seat and explain they're not going to get hurt or hurt anything. They're not going to tear anything up or crash it. Then they get more comfortable and start learning. Spending time on the simulators and completing the exercises really teaches the students and prepares them to operate heavy equipment."
Collins Career Technical Center (CCTC) in Chesapeake, Ohio, launched an HEO program after completing a needs assessment with local employers and Local Operating Engineers in Ohio, Kentucky, and West Virginia.
"We determined there was a great need for operator training to address the future demands of close to 22,000 heavy equipment operators over the next two years," said Michael Staton, associate director. The team believed an in-depth heavy equipment training program, complete with four simulator systems, would be crucial for the Tri-State's future workforce, according to Staton.
CCTC students learn how to operate small wheel loaders, motor graders, excavators, and dozers on the college's simulator systems. Mark Norris, heavy equipment instructor, said that he appreciates the safety factor the simulators bring to the students, instructors, and equipment.
"The simulators teach them how to start and stop a machine," said Norris. "I'd rather try to stop somebody sitting in a simulator than I would sitting on a real machine. It gives you the sense you're sitting in a real machine without the risk of running over somebody or something."
Staton and Chris Leese, post-secondary administrator/director of technology, recognized the exceptional value the simulators' real-world feel would bring to the students' learning experience.
"We wanted the real-world feel," Staton said. "We wanted the articulation. We wanted the movement in the seat. We wanted the vibrations. We wanted the simulators to just feel as much like sitting in the seat and behind the stick as they possibly could."
Said Leese: "The students all said the muscle memory they developed is hard to replace. They said it felt like a normal progression to them, and they didn't feel as intimidated getting on a real machine because they had been on the simulators."
At Ledcor, a diversified construction company based in Reno, Nevada, "Think Safety, Work Safely" is more than the safety slogan. It's part of the company's culture and its No. 1 priority.
 "We use the [simulator] Incident Response training to train operators how to respond to engine fires, loss of brakes, loss of steering and slick roads," said Jerry Rynearson, training manager. "All the situations you would like to duplicate in the field but can't safely duplicate. A lot of companies just talk to their operators and tell them what to do in those situations. But you can't see the operator's reaction unless you're using a simulator.
"Simulators have made it easier to train for these situations because you're in a controlled environment where you're not pressured," he said. "There's no pressure for the student, no pressure for the trainer/instructor. "You have the ability to stop everything right where you're at and talk about it. In the real world, you can't just stop and talk about what just went wrong or the effects of what was done incorrectly. Simulators have brought a new level of stop and talk."
Shelly New, lead simulator trainer, continually sees the benefits of simulator training for both employees and trainers.
"Simulator training gets employees familiar with the truck's controls and how to run them," New said. "Simulators also help us trainers see how people will react to the different scenarios. You can't really say, 'Okay, you're on fire. What do you do?'
"But what we can do is simulate a fire, steering loss, brake loss and slick weather conditions, basically anything that can go wrong," New said. "If the employee makes a mistake, we can go back through it with them, discuss it and explain what they need to do in the future for each of those scenarios."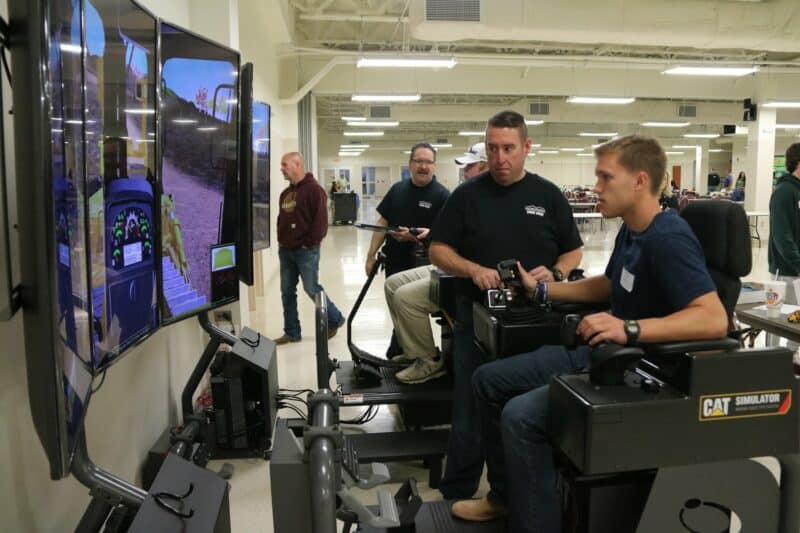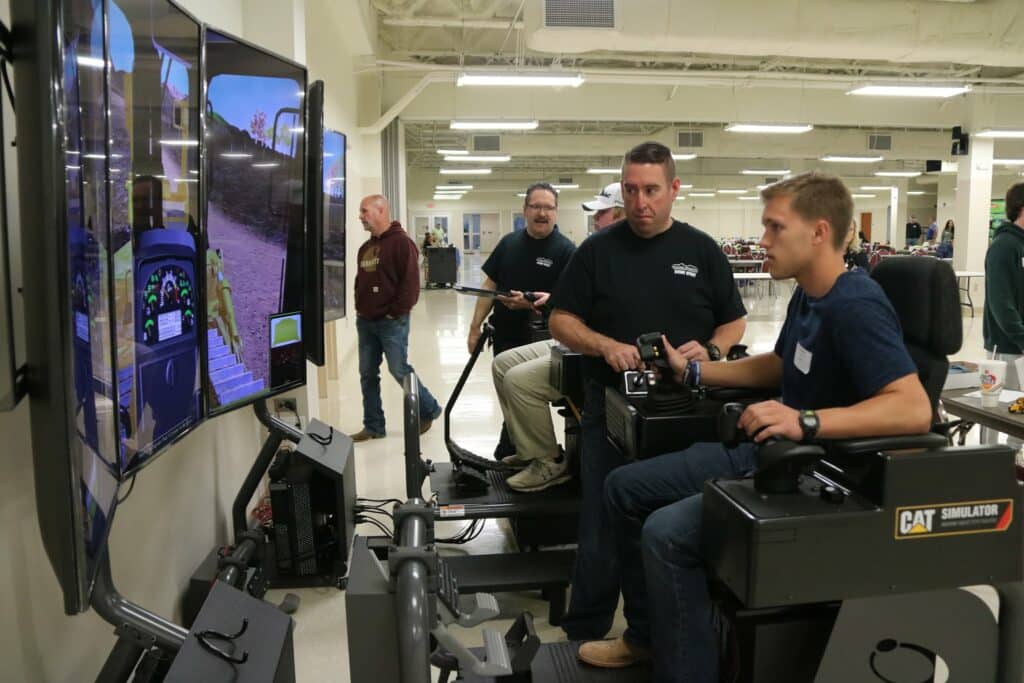 Recently more than 100 students from 10 local high schools had the opportunity to experience WPCC's two simulators at the WPCC's Construction Rodeo Trades Competition in Morganton, North Carolina.
"A few years ago, we realized one of the many challenges to attracting students to the construction industry is that students don't get excited about working in the trades, so we decided to make it very much like a sports event where the different schools come together and have fun competition," said Daniels, who organized the rodeo.
The simulators were one of 10 stations that students could visit and try their hand at during the day-long rodeo.
About the Author – Kim Roberts
Kim Roberts is a marketing communications specialist at Simformotion LLC who enjoys meeting and talking with heavy equipment operator students, instructors, and customers about the role simulators play in their heavy equipment training experience or programs. She specializes in writing customer success articles that capture the customer's appreciation for simulator training.