The new Heavy Equipment Operator (HEO) Simulator Training Program has created a brand-new construction pathway for Georgia high schools. Each Career Technical & Agricultural Education (CTAE) pathway consists of the following three classes:
Industry Fundamentals & Occupational Safety (NCCER Industry Credential)
Intro to Heavy Equipment: Excavator (Cat® Simulators, SimScholars™ Curriculum & Industry Partner Credentials)
Heavy Equipment 1: Bulldozer (Cat Simulators, SimScholars™ & Industry Partner Credentials)
C.W. Matthews Contracting Co., Inc. piloted the program with its current employees. The program has been deemed very effective in placing individuals on the "Fast Track" to becoming heavy equipment operators in the horizontal construction industry. Students who successfully complete this program and receive a favorable evaluation and recommendation from their CTAE instructor will have a variety of career opportunities in the horizontal construction industry from a variety of contractors across the state.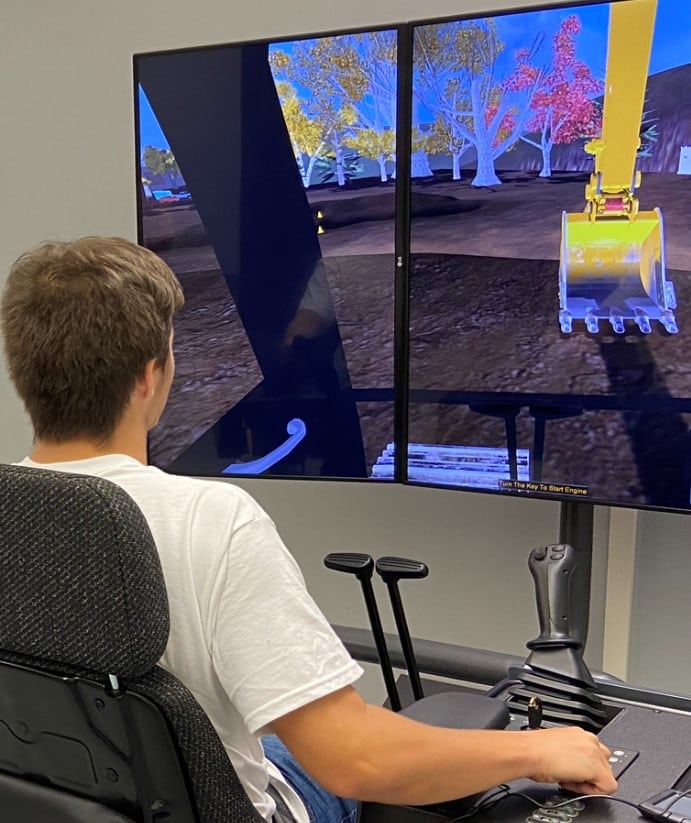 At the beginning of the second and third classes in the pathway, students will be taken on "Vision Trips" provided by the school's industry partner. The students get to sit in the real equipment and see it in action by a skilled operator. Here, they will also get to see that the controls on the simulator are the same as the controls on the real iron. This gives the industry partner the opportunity to begin building relationships with the program and students.
During the simulator training, the class consists of two main parts. The first part, Curriculum Training, uses Simformotion SimScholars™ curriculum which has been custom-made for schools and written for Cat Simulators. This gives students the "WHY" in what they are doing. The second part of the class is the simulator training itself. Students work through modules like Machine Walkaround, Bench & Truck Loading, Trench Box & Pipe, Trenching, and many other exercises that show the students the hands-on "HOW" in operating heavy equipment. Both parts of the class happen daily.
"We are excited that the new Heavy Equipment Operations Pathway provides an outstanding opportunity for students to investigate and pursue a career with horizontal construction companies in Georgia."
–Roger Ivey, CTAE Program Delivery Manager
Georgia Department of Education
At the end of the second and third classes in the pathway, the industry partner hosts students at a real jobsite where the students perform "The Capstone Project." The Capstone Project requires the students to perform the same series of tasks on the real equipment as they did on the simulators. The Capstone Project is performed under the close supervision of seasoned operators adhering to strict safety guidelines. Students who successfully complete the entire pathway and The Capstone Project will walk away with seven or more industry recognized credentials that will help them secure a career in the horizontal construction industry..
"We are thankful for all the support this new pathway has received" explained Jeremy Whitaker, C.W. Matthews Director of Training & Recruitment.


HIGH SCHOOLS OFFERING THE PROGRAM
Cobb Innovation & Technology Academy
East Forsyth High School
Empower College & Career Center
Jones County College & Career Academy
Jordan Vocational High School
Toombs County High School