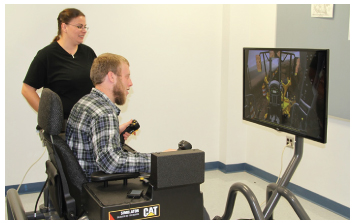 Construction is everywhere in Wake County: From schools to shopping centers to new homes and neighborhoods, the region continues to grow. Wake Tech's Northern Wake Campus is expanding, and the college will soon break ground on its RTP Campus in Morrisville. All that building makes our community a great place to live, but it requires a lot of heavy equipment – backhoes, excavators, bulldozers, and the like – and skilled workers who can operate it. That's why Wake Tech is launching a new Heavy Equipment Operator training program. It's among the first in the country to use simulators for training, and the only one of its kind in eastern North Carolina.
"Along with extensive knowledge of the enormous machines they're controlling, heavy equipment operators need keen hand-eye coordination, depth perception, and precision movements," said department head Ronnie Lowe. "These simulators will provide the hands-on training students need to build those skills and become
proficient."
Not only will simulators help build skills, they'll eliminate the need for costly (and time-consuming) equipment repairs or upgrades to outdated machinery. A simulated environment also eliminates the risk of worker injury and damage to equipment during training – and is not subject to weather delays.
"Simulation is the future of higher education," said Dr. Scott, "and this program is another prime example. Simulated training is safer, more efficient, and much more cost-effective for businesses and taxpayers."
As with other programs, Wake Tech has worked with industry representatives to verify their needs and develop the program accordingly. With the average age of heavy equipment operators nearing 53, the construction industry is in need of a new pipeline of qualified workers. They're needed to fill jobs now, and they'll be needed in the future, as current workers start to retire. According to the Bureau of Labor Statistics, job opportunities in the Triangle are expected to grow by 23% over the next six years.
Wake Tech is starting with a oneyear diploma program, with plans to expand it to a two-year associate's degree. Local companies have agreed to provide Wake Tech students with hands-on training to round out their education. Wake Tech also offers a Heavy Equipment and Transport Technology program, which trains technicians to repair these vehicles. Students in that program are also looking forward to taking the Heavy Equipment Operator courses. "If I know how to operate the equipment," says student Ruby Hawley, "I'll know exactly what the operators are talking about when they complain that something's not working,"

STORY BY:
Wake Tech Community College
© Copyright 2014 Wake Tech Community College