Simulators aren't new to the industry, but many companies don't understand the cutting edge training they offer for heavy equipment operators. Simulators are easy to use, cost effective, and allow operators to be well trained and comfortable before being placed in the cab of an expensive piece of equipment. They combine technology and operator instruction with rich graphics and realistic controls to help operators feel like they are in the actual machine, allowing them to become familiar with and memorize the machine's essential operating techniques.
"I think simulators are important for the overall training experience," says Tom Whitworth, an account manager for Simformotion™ LLC, the licensee for Cat® Simulators for Caterpillar Inc. "A simulator provides training in a virtual environment. It keeps the operator and other ground personnel out of the equation and out of harm's way."
Training exercises on the simulator are measured and recorded for each operator's simulator sessions. That way, the operator can see how well he/she performed. An instructor can check the results to determine if there are areas of inefficiency that need further instruction and additional training time.
"We use our simulators almost every day here," says Danny Turner, training and development coordinator at Aecon Mining in Alberta, Canada. "In the last four months, we've had 250 trainees go through our training center."
The use of simulators allows operators to make mistakes without endangering themselves or the equipment. This is huge. No one wants to put a greenhorn behind the wheel of a haul truck or at the controls of a loader, excavator, or other expensive machine without knowing he/she can operate it correctly.
"If you make a mistake on a simulator, it's better than making one on a machine," Whitworth says. "A trainer can immediately explain to the operator what he did wrong, give him instructions on how to do it correctly, and allow the operator to practice until he has mastered the operation."
One of the biggest benefits that simulators offer is the ability to track and keep records of each operator's performance. "We can track time, usage, the speed at which the operator is going, and even how much material the operator is actually putting through," Whitworth says. "Then you get a report of that operator that you can save to track performance throughout training."
Simulators also allow quarries to continue producing aggregate while operators are being instructed in the training room. No unnecessary equipment downtime is required. This is especially important when training someone to load a haul truck, which requires the use of more than one piece of equipment at the same time.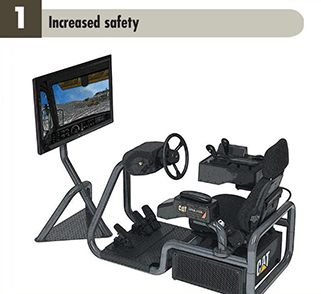 Simulator training increases the safety of man and machine by allowing equipment operators to train in the safety of a classroom. Operators can learn how to safely operate a piece of machinery, become familiar with the controls, and perfect difficult exercises before actually getting into the equipment, therefore, doing away with the risk of accident and/or injury to the operator or the machine.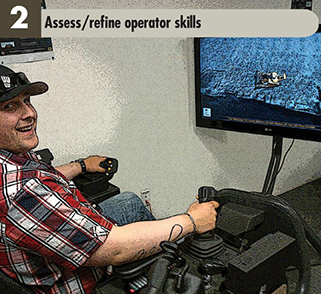 Simulators are a good way to assess the skills of new hires without the risk of putting them into a piece of equipment. Check their skills, and, if you like what you see, continue to use the simulator to train the operators for a day or two to make sure they understand the unique challenges/ways of performing tasks and handling traffic patterns associated with your individual operation.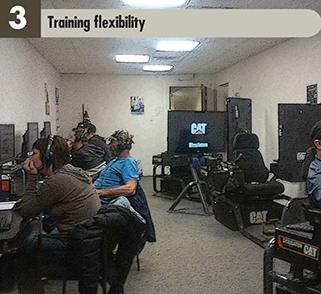 Simulator training offers great flexibility. Training centers can be set up in on-site classrooms or in a mobile trailer that can be moved from site to site. The training can be done any time, day or night, and in any weather conditions. Simulators can be used in conjunction with computer programs, allowing multiple operators to be trained at the same time, which speeds the entire training process and gets operators into the iron quickly.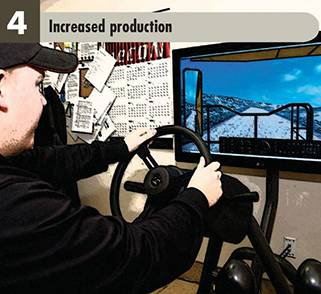 Training on a piece of equipment takes that machine out of production for the period of time necessary to ensure the operator can efficiently operate the machine. If multiple operators are being trained at the same time, it means multiple pieces of equipment will have to be taken out of the production cycle. Training an operator on a simulator leaves the equipment free to continue producing, loading, or moving aggregate.
Cost savings is the name of the game for any company that wants to continue doing business in this day and age. Simulators are one way producers can help keep expenses to a minimum. There are no fuel costs or equipment maintenance required when using simulators, and no engine hours are expended. If a loader operator is being trained to load a haul truck, it requires the use of two machines at double the expense, so the cost savings can be huge when using a simulator.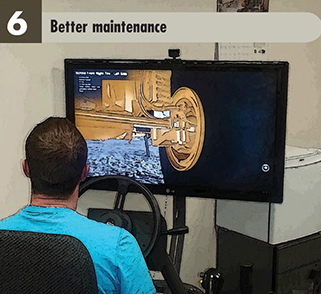 Some simulators include an inspection program that can help operators identify possible maintenance issues before they cause serious problems. The simulator leads the operator through a Walkaround inspection of the machine that highlights what areas should be checked during both a pre-operation inspection and a post-operation inspection. The Walkaround shows the operator what to look for in each area in order to prevent equipment downtime associated with unplanned maintenance.
Voices of Experience
Tom Whitworth

"Simulators allow the operator to become familiar with the overall machine controls quickly without any hazard to the operator or machine, without taking the machine out of production, and without wasting money on fuel," says Tom Whitworth, account manager for Simformotion™ LLC, the licensee for Cat® Simulators for Caterpillar Inc. "You don't want to do away with all of the operator's iron time, but the simulator allows you to do away with a portion of it and keep track of it at the same time."

There are some things that can be done on a simulator that can't be done on a machine. An operator learns to operate equipment from the safety of a classroom with a trainer nearby to answer questions and explain procedures. If the trainee does something wrong, the trainer can address it immediately and have the operator perform the operation the correct way.

Cat Simulators training exercises contain benchmarks from Cat expert operators. The simulator software tracks training performance and generates a report each time an operator uses the simulator. Operator performance can be tracked from the time of hire and throughout his/her training and employment.

"A brand new operator will obviously have to spend more time on a simulator, but each one learns at a different pace," Whitworth says. "One may only need 20 hours to learn all the controls, where another may need 40 hours or longer before feeling comfortable enough to get on a machine. The applications included in each simulator are the same operations used on actual jobsites, so the training translates seamlessly to real-world use."

An operator can get on a simulator and practice a particular exercise every three months or so to keep skills fresh. If there's an operator that has a really bad habit, he/she can perform the exercise on the simulator until the bad habit has been corrected.

"In the aggregate industry, there are some big companies with multiple locations that might not have enough operators at one location to justify buying a simulator," Whitworth says. "So, some companies outfit trailers as mobile labs. Instead of making everyone come to one location, the trailer can be driven to different locations. It can be at one quarry for a couple of months and then moved to the next, cutting out travel time and machine downtime."

Much goes into the development of a simulator program, and customers determine what is developed next. "If our customers are interested in a particular machine, we have the ability to develop one," he says. "We also offer custom simulation development. If a customer wants a certain machine model, environment, and particular training exercises, a simulator can be developed just for that customer."
Danny Turner

"We got our first simulator about two and a half years ago," says Danny Turner, the training and development coordinator at
Aecon Mining in Alberta, Canada. "Our original idea was to use it as an evaluating tool for new hires, and it worked out really well for that. Our new hires sometimes are not what they say they are. When we first started using the simulators, we only hired about 60 percent of the people who applied, because they couldn't pass our simulators. Now, people seem to know we're tracking
this closely, and we are getting better quality people."

The company eventually purchased a dozer simulator and an excavator simulator, and set up a training center in August 2013. The simulators are now used for both evaluating new hires and for training and retraining. The training center includes eLearning computer programs, as well, which work well with the simulators to provide a complete training solution.

"Simulator training is usually a one-time thing," Turner says. "We bring in an operator for a full day. He'll do computer training and then move to the simulator. By the end of the day, we've run him through many different programs. If he's not comfortable, we'll bring him back again the next day. It's based on the individual."

"Once the operator is finished with the simulator, the trainer takes him out in the field," Turner continues. "There, the trainer goes through much the same scenarios as the operator performed on the simulator. If the trainer finds an area the operator is having trouble with, he will bring him back to the simulator to show him what's being done wrong and how to do it right."

Aecon is located in the Fort McMurray area of Alberta and much of its work is performed in the oil sands. Because the oil sands are located in the boggy muskeg, most of the work is done in the winter when the ground freezes hard enough for large equipment to drive on it without getting stuck. This means that many of the company's operators are on furlough for several months during the summer. When the operators return to work, they are sent to the training center for a refresher course before returning to their machines.

"Simulators are a big investment," Turner says, "but we'd be lost without them. You can see a return on the investment in a short amount of time. We push to our clients that there aren't too many companies that use simulators and computer training before putting operators to work. And we promote the fact that we do."
Source: http://read.dmtmag.com/i/268384