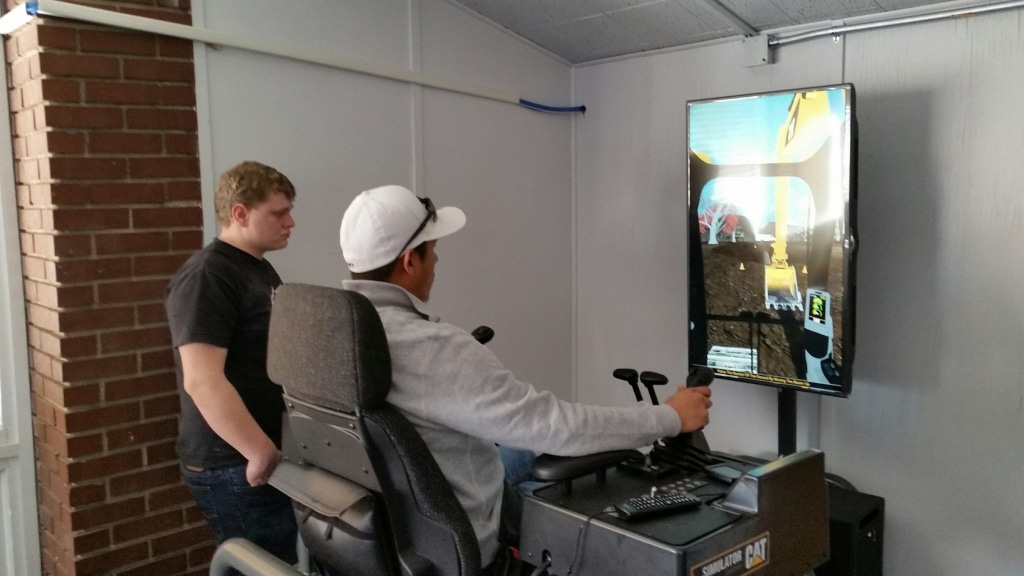 Utah State University instructor and 20-year heavy equipment industry veteran, Kyle McArthur, wanted to decrease program costs and improve training effectiveness. The addition of a Cat® Hydraulic Excavator Simulator System to the Heavy Equipment and Trucking program at the university's eastern campus in Price, Utah, has resulted in both.
Prior to the simulator, the program's annual enrollment of 30-50 students conducted training on the actual machine. However, this practice often added significant stress and pressure to the machine, due to lack of knowledge and experience. Now, 20-30 hours of simulator time provides a cost-effective and safe environment for learning, as each student practices and masters the correct operating techniques before they step on the machine.
"The simulator saves money in fuel costs and normal wear and tear," said McArthur. He estimates that simulator training saves up to 500 gallons of diesel fuel a semester. McArthur also sees performance improvements that can be attributed to the simulator.
"It's amazing to watch people progress on the simulator and then go out to the real thing and be comfortable," McArthur explains. He credits the quick transition from simulator to machine to the "real feel setting" of the simulator that features actual machine controls and a motion system that mimics the movement of the machine in its working environment.
McArthur customizes simulator assignments for students and can pinpoint, address and monitor problem areas for each individual. He shared a story of one student who benefited from additional simulator time after experiencing difficulty transitioning to the machine.
"He was using too much down pressure on the hoe and putting wear and tear on the machine," he explained. "I took him off the machine and we went back to the classroom. I made a special set of courses for him emphasizing the feel of down pressure on his stick and bucket." After three days of simulator practice, he was ready to try the machine again.
"When he got back on the machine, he was a whole different operator. Smooth and very fast, and efficient at digging," said McArthur. "That was when I knew the simulator was worth every penny."
He has also found the simulator beneficial when working with students who have prior experience because he can help them hone their skills and break bad habits.
"It is really rewarding to take good operators and make them top notch."
Based on the results he is seeing with the Cat Simulator System, McArthur would like to add additional simulators to the program. Next in line is the M-Series Motor Grader Simulator System, an investment that will reduce the wear and tear on their new motor grader model and continue to drive down program costs for the university.