A topic of conversation that we hear from our clients is "How can I get more out of my simulators?" or "How can I better use SimU Campus™ to track my operators?" So in response, we've developed a class to address this subject. The Simulation Instructor Training class is designed to provide a better understanding of how to use Cat® Simulators for operator training. Each hands-on training course will focus on specific simulator models. Objectives will cover:
Modifying classes
Understanding training exercises
Establishing expectations for exercises
Determining exercise results & critical benchmarks
Setting up courses tailored to your program
Practice hands-on time with each simulator
Join us for a class and learn how to get the most out of Cat Simulators. Contact your Account Manager at 1.309.266.2640 to set up classes or click to learn more.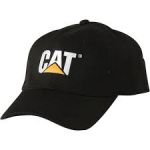 A huge thank you to Jose Cardona, Service & Operator Trainer at Madisa, for the tip below. Recommended operational practices to minimize neutralizing of the transmission, for operators who are using an M-Series Motor Grader with an updated chassis/transmission.
Select a suitable gear and engine speed for initial machine movement.
Do not reduce the engine speed when shifting gears.
Perform significant machine operations with the engine speed at 1400-1800 rpm.
Use correct load management to prevent a significant drop in engine speed.
Do you have a helpful operating tip? Submit a tip and receive a hat!
Coming Soon! Off-Highway Truck Simulator System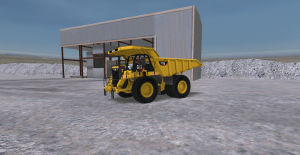 Our development team is hard at work on the new Cat® Simulators Off-Highway Truck System. The new system is set in a quarry environment and features 11 training exercises, including our one-of-kind Machine Walkaround. Learn the same applications as Caterpillar operators around the world. Plus, record and report the results of simulation sessions to track operator progress. Extend simulator training with the bonus eBook on the iPad. It features videos, techniques, safety and maintenance information, helpful images and more. Add a motion system to feel vibration and movement as the simulated truck interacts in the quarry. Contact your Account Manager at 1.309.266.2640 or learn more.
Ask About Our New Trailer Mount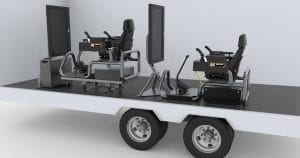 Cat® Simulator systems can now be taken on the road with the new trailer mount kit. Securely transport simulator units to conduct training in the field, at satellite locations or demo the simulators for students. The kit is available for standard simulator set-ups or for simulators outfitted with a motion-platform. To find out more information email info@catsimulators.com.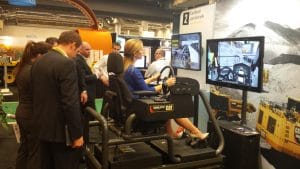 Account Manager, Tom Whitworth, recently attended the Annual Convention of Canadian Institute of Mining, Metallurgy and Petroleum in Montreal. Cat dealer Hewitt was also in attendance at the show to demo Cat Simulators systems. They met customers from all over Canada and as far away as Turkey. Visitors were able to experience the simulators, along with the motion system available that allows users to experience vibration and movement of the simulated machine as it interacts with the terrain and its environment. Visit our website to find out where our team will be traveling next!
Do You Know Cat Simulators?
Support analyst and simulator expert, Joel Montgomery, shares his knowledge to help you get the most out of your simulators.
Did you know that you can customize class settings to fit your training needs?
The Hydraulic Excavator has the ability to change the control scheme from SAE pattern to BHL (Backhoe Loader). These can be set at the global level or at the class level. What this means for you is that you can customize the classes based upon the training needs or you can set the global value to always use the control scheme you choose. Using these options will help you focus your training needs to fit your work site conditions better.
Customizable options from other simulators that can be set globally or at the class level:
Articulated Truck – Forward high gear setting
FM Log Loader – Reverse Grapple Controls
Track Feller Buncher – Reverse Grapple Controls
Mining Truck – Traffic pattern: right hand or left hand
Small Wheel Loader – Different attachments: Commercial, Multipurpose bucket, or pallet forks
Sign Up for our eNewsletter
Share Simformed with a colleague! Our newsletter features the latest simulator models, video releases, training tips and more. Sign up for our bi-monthly eNewsletter.
Contact a Cat® Simulators
Account Manager
1.877.434.7467 (in US)
1.309.266.2640
www.catsimulators.com