Scholarship Opportunity – Investing in Tomorrow's Workforce
Once again we are proud to announce the availability of our academic collegiate scholarship for the 2015-2016 school year. A $2,000 (US) will be awarded to a student with an interest in pursuing a career in heavy equipment operation, construction management, mining engineering or any heavy equipment-related program. Students enrolled in an accredited heavy equipment-related program in good academic standing, at an institution that utilizes Cat® Simulators as part of their program, are eligible for the scholarship. The scholarship is open to students anywhere in the world meeting the criteria.
Download an application for the Cat® Simulators Scholarship by clicking here or request a copy via e-mail at connect@catsimulators.com. Application deadline is April 30, 2015.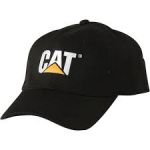 "When operating the M-Series Motor Grader, be sure you look down the road to where you're going and not watching the front wheels. This will help in steering the machine straight. Also the narrower you keep your blade, the less power it takes to move material, and the less tendency the machine will have to duck walk."
Rob Myers
Machine Application Support
Kramer Ltd.
Submit a tip and receive a hat!
Do You Know Cat Simulators?
Support analyst and simulator expert, Joel Montgomery, shares his knowledge to help you get the most out of your simulators.
Your simulators can be networked to use the same records. This means that multiple simulators can accommodate the same users, class settings and reporting data. The manager's workstation makes it possible. Set up a manager's workstation and enter trainee/student names only once. All of the records from any user can be accessed from one central location. This is especially handy for reporting, as user progress can be tracked across all of the simulators in your fleet.
Learn more about networking your simulators together with a Manager's Workstation.
Editor's Note: We want to hear from you!
An excellent resource for coming up with new product and enhancement ideas is you! Share your suggestions on new simulators you would like to see; or how we can improve your    Cat® Simulators experience overall.
Share your thoughts with us by contacting the Support department or your Account Manager.
Rolling Motion Platform Now Available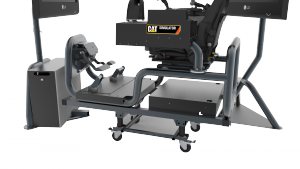 The Rolling Platform allows easy transportation and movement of the simulator. Now a platform is available for simulators equipped with the motion system. Contact an Account Manager at 1.309.266.2640 for details or to order.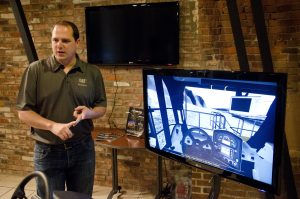 Learn how to impact profits, safety and production! The Simulation Instructor Training class is for those who would like to better understand how to use Cat® Simulators for operator training. Each hands-on training course will focus on specific simulator models. Objectives will cover:
Modifying classes
Understanding training exercises
Establishing expectations for exercises
Determining exercise results & critical benchmarks
Setting up courses tailored to your program
Practice hands-on time with each simulator
Contact your Account Manager at 1.309.266.2640 to set up classes or click to learn more.
Simulators Travel to U.S. National Parks
Don Webb, Director at Kentucky Safety and Training Institute, and Steve Greene, Associate Professor at Southeast Kentucky Community and Technical College, discuss how KSTI is currently using Cat
®
Simulators to improve the National Park Training Program and the College's 2-year Heavy Equipment program. Click
here
to watch the video!
Sign Up for our eNewsletter
Share Simformed with a colleague! Our newsletter features the latest simulator models, video releases, training tips and more. Sign up for our bi-monthly eNewsletter.
Contact a Cat® Simulators
Account Manager
1.877.434.7467 (in US)
1.309.266.2640
www.catsimulators.com