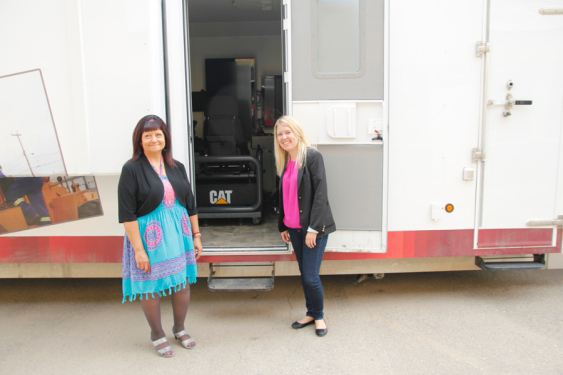 NENAS Executive Director Audrey Sam (left) and Minister of State for Western Economic Diversification Canada Michelle Rempel (right) stand outside the new heavy equipment operator/mining simulator tractor trailer. Photo By William Stodalka
Would-be heavy equipment operators got some heavy duty help last week.
The Federal government's Western Economic Diversification Canada announced that it gave $1.4 million to purchase a heavy equipment operator/mining and driving simulator to the North East Native Advancing Society (NENAS), a group designed in part to help First Nations become economically self-sufficient.
This driving simulator is loaded on a tractor trailer, and features multiple laptops, screens and other complicated technology designed to give students hands-on learning.
NENAS Executive Director Audrey Sam praised the acquisition: "We're very happy about it."
According to a release, industry stakeholders have already committed to hiring students upon graduation from the training course made possible by the simulator.
The project is still only a pilot, set to go from January to April next year. It is hoped that the project will train about 225 drivers and heavy equipment operators.
However, Michelle Rempel, Minister of State for Western Economic Diversification, said that she hoped the project would "be used for a long time to come" after April 2015.
"We've got a very strong proponent here with NENAS," she said.
During the announcement, Rempel spoke about the importance of ensuring that First Nations and Aboriginal people have an equal opportunity to take part in Canada's economy.
"The priority for this project is First Nations communities … they have a focus on ensuring that eligible First Nations communities have access to it," said Rempel. "We have an untapped labour pool here in the Northeast."
Rempel added that it was "a reality" that this pool was untapped.
"There are folks in First Nations communities who aren't participating in the economy due to a lack of skills training," he said. "I've met with a few communities, and some of the factors I've heard is that it's difficult to get to a major centre … we have to be more creative in how we bring skills training to our community."
Sam hoped to bring this opportunity out to other First Nations nearby.
"People see the trailers coming out, and that motivates and gets the interest," she said. "Then they see their cousins taking the training, and they think, 'Gerald can do that, so I can do that too.'"
The program also has the benefits of teaching in a audience-focused way, Sam added: "(NENAS has) learned that Aboriginal people learn best by hands-on apprenticeship methods, and the simulators lend support to this style of teaching.'
However, Sam stressed that the program will also be open to non-Aboriginals.
"There are communities elsewhere that are interested … so I can see us expanding," she said.
Beyond programs like this, Sam said that other programs need to "think outside the box" for training opportunities to help bring up the labour force.
"There's so many ways of approaching training like this," he said.
One local First Nations leader, Halfway River First Nation Chief Darlene Hunter, also praised the announcement.
"I do believe education is the key in order to get all of our people working for ourselves," she said. "This is their land, and the industry just takes and takes, and our people need to learn how to get something back from it, and by education, that's how they'll get it."
Hunter said that she worked for NENAS during the application stage, and securing funding from Victoria and Ottawa felt like "jumping through hoops and hoops and hoops."
She said that the governments should realize that First Nations like Halfway River "learn in a different way, so not everything works by going through a college."
STORY BY WILLIAM STODALKA OF THE
Alaska Highway News
© Copyright 2014 Alaska Highway News