Kim Lineberger, President of LCI-Lineberger Construction, Inc., and Jan Lineberger, President of Carolina Construction School, LLC, in Lancaster, South Carolina see a two-fold benefit to Cat® Simulators. They are a cost-effective way to train current employees and can be used to increase awareness of careers in construction.
Improving the Skills of Current Employees
LCI purchased the Track Type Tractor Simulator System (on Motion System) with the intent to use it first for employee training. Factors including safety, reduced risk of injury to trainees, and reduced damage to expensive equipment were primary drivers in the purchasing decision.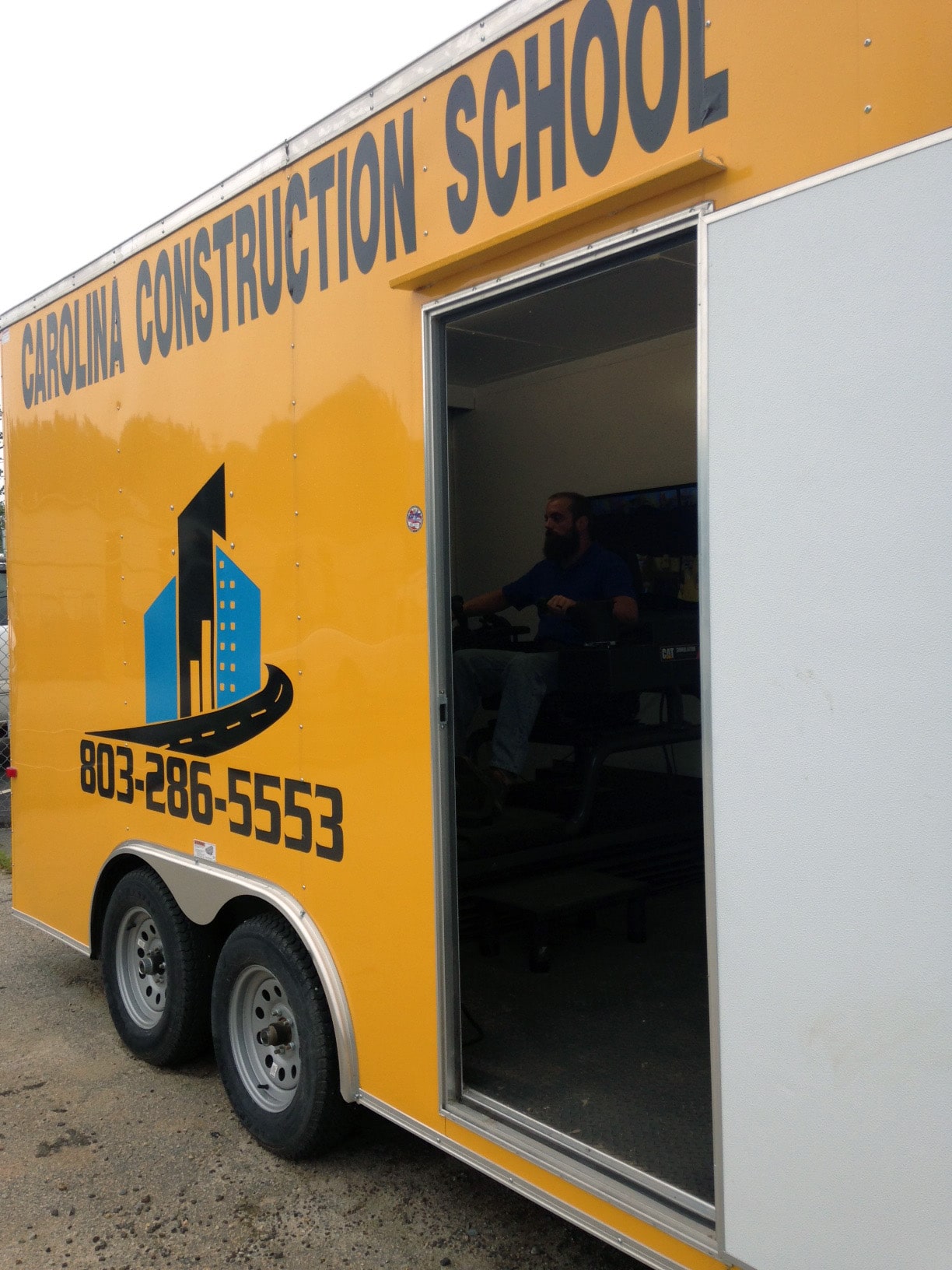 Carolina Construction School mobile training trailer takes simulation to the student.
Additionally, the ability to use the simulator for training at any time – even when the weather does not allow for outdoor training – was another significant value driver for the investment.
"We have employees that were basic operators before time on the simulator," said Kim. "Now they are better. They are more comfortable doing their jobs."
As a company, LCI takes on projects ranging from residential subdivisions, bonded governmental highway work, commercial site development, and site work for school districts. LCI's continued success in the construction industry can be attributed in part to the hard work and dedication of its employees, especially when it comes to a commitment to ongoing training.
"Currently, LCI employees use the simulator when the weather prevents jobs from working, mostly during winter months," explains Kim. "There have been several employees that have spent countless hours honing their skills as a dozer operator."
Planning for the Industry's Future
LCI has grown from a small construction operation in 1995 with eight employees and three pieces of equipment to having over ninety employees and one hundred pieces of equipment today. And the path for growth continues.
Carolina Construction School, LLC (CCS) was started in 2016 by Kim to aid in the training and development of current LCI employees and to help develop skilled workers for the growing construction industry. According to the Bureau of Labor Statistics, jobs for heavy equipment operators are projected to grow 23 percent by 2022. With classes for heavy equipment operators and truck drivers beginning in October 2016, CCS will be well-positioned to respond to that growth. CCS is currently going through the accreditation process with the National Center for Construction Education and Research (NCCER).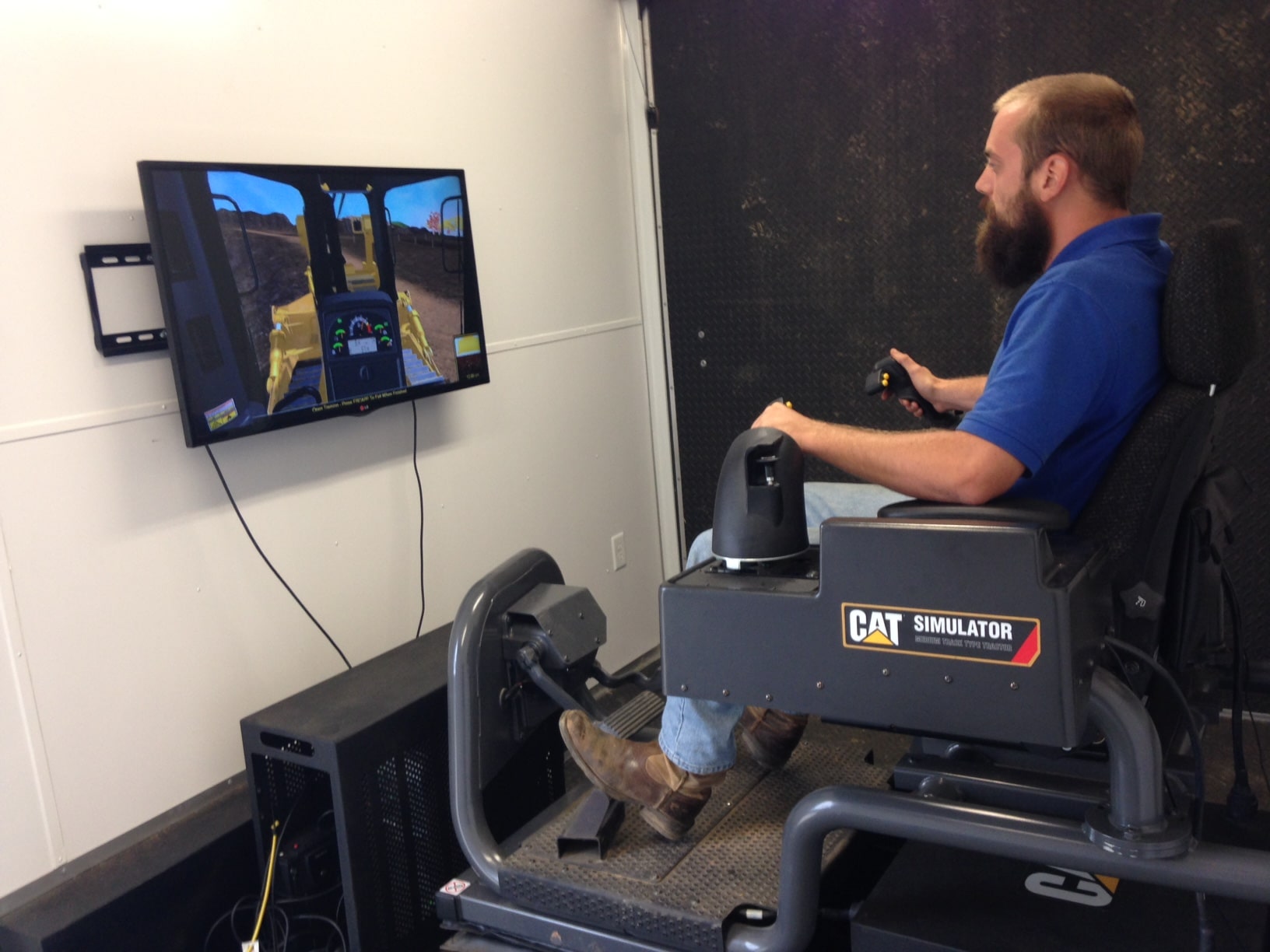 A student trains using the Dozer simulator system.
"CCS takes the simulator to career and technical schools, career fairs, and job fairs to build interest in equipment operating and the new Carolina Construction School," said Jan.
Students from one local career and technical school who experienced the simulator commented that they never realized how much concentration and skill it takes to run the equipment. The simulator helps alleviate their initial apprehension about the machinery while fostering an interest in the field.
LCI and CCS will continue to use the simulator to train new operators and will continue to use it at festivals, career fairs, and schools to raise knowledge of the growing construction industry.