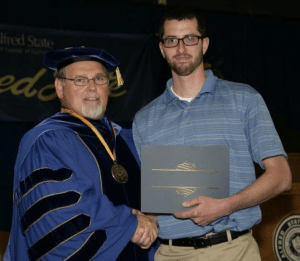 Peoria, IL, June 2015 — Simformotion™ LLC – a leader in heavy equipment simulator development – is proud to announce that it has selected Tyler Wright for the 2015-2016 Cat® Simulators Scholarship. The winner receives a $2,000 scholarship to support the pursuit of a heavy equipment- related career.
Applications were accepted from students enrolled in an accredited heavy equipment-related program at an institution that utilizes Cat Simulators as part of their training program or curriculum. Wright is currently enrolled in the Heavy Equipment Operations program at Alfred State College, N.Y.
Wright will be completing his senior year at Alfred State in May 2016. He is currently involved in the Disaster Relief Team at Alfred State, works part-time at Release Coatings and has been recognized on the college's President's list for maintaining a 4.0 GPA. Current and past teachers and employers all speak very highly of Tyler and describe him as a hardworking, intelligent, young man who has a bright future ahead of him. Tyler states, "My curriculum currently has three Cat Simulators which are an immense help in my training. Many jobs require previous experience and knowledge to be able to hop right into a piece of equipment and start work, but with a limited number of machines in school the simulators play a crucial role in gaining seat time and awareness."
Simformotion President Ken Pflederer says, "We created this scholarship as a way help support and reward students pursuing a career in heavy equipment. Each year we have a large number of worthy applicants, which makes the decision a fun—yet difficult one. The workforce is in need of skilled professionals and we are fortunate enough to be able to support those students attending a school or training institute that provides the proper education."
Applications for the 2016-2017 Cat Simulators scholarship will be accepted beginning in January 2016. Download an application here. Anyone meeting the qualifications may submit an application, regardless of where they live in the world.