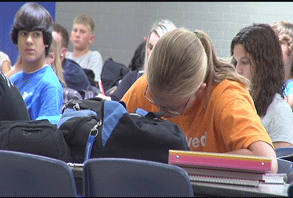 Kearney High School (KHS) and Central Community College (CCC) are partnering with local employers to bring an exciting addition to the KHS Transportation Technology class and Industrial Technology students. Generous private donations have allowed this collaborative effort to come together to create the "Heavy Equipment Operator" class.
Simulators have been purchased that will teach students how to operate loaders, motor graders and excavators. These students will walk away with a thorough introduction to a highly skilled trade and the ability to land good paying entry-level construction jobs right out of high school, with the opportunity to advance into more senior and supervisory type positions. The local construction industry is in great need of skilled workers, so it's a win-win for students and businesses in the Kearney area.
The class will be available to interested students beginning in January 2014. Dr. Jay Dostal, KHS Principal, has been instrumental in bringing the project to fruition. "We are very fortunate to live in a community where businesses partner with the school to provide opportunities that will help our students be successful in the future. There is a shortage of heavy equipment operators and these simulators will provide our students an opportunity to learn skills in real world scenarios. I'm excited to continue our strong partnership with CCC and want to thank Midlands Contracting, Blessing Construction, Nebraska Machinery Company/Caterpillar and the Beryl Claar Memorial Fund for opening up doors for our students who are interested in working in the construction career field," Dostal said.
Kelly Christensen and Steve Hoyt, with CCC, identified and adopted curriculum which incorporates Caterpillar (CAT) modules that are included with the simulators. "The simulation technology available today is exceptional, and with the generosity of these businesses and individuals, students will now have access to heavy equipment operator training that is extremely realistic with real-world scenarios," Christensen said. "This is a very exciting opportunity for the students at KHS. These businesses and individuals have joined with KHS and CCC to make a serious commitment to providing a skilled workforce in the future by investing in the KHS/CCC Industrial Technology programs and students of today. Students will learn not only the skills required to operate heavy equipment, but related skills necessary on construction projects such as plan reading, surveying and safety requirements," Hoyt said.
The CAT simulators are an easy to use, cost-effective and reliable training tool which ensures that students are in a safe environment while learning. With an emphasis on "skill mastery", students can practice operations commonly found on the job site. The built-in training modules will assess student performance and retain records for instructor analysis. Simulation is also an ideal method for training students while still in high school. This pre-training of heavy equipment operators not only focuses on safety, it also helps students become aware of the construction industry and related careers.
The Kearney Public Schools Foundation has received generous gifts from businesses and individuals with a passion and interest for the success of this new concept in learning. "Many students prefer learning a skilled trade rather than obtaining a degree from a 4-year college, and this is the perfect curriculum for many of them. We are thrilled that KHS and CCC saw the need and jumped on the opportunity," said Nancy Williams, KPS Foundation Director. Over $150,000 has been donated by Midlands Contracting, Blessing Construction, Nebraska Machinery Company/Caterpillar and the Beryl Claar Memorial Fund.
Source: http://www.1011now.com/centralnebraska/home/headlines/New-Class-Comes-to-KHS-Students-230597711.html